READING ADMINISTRATION PERIODS IN BUILT ENVIRONMENT THROUGH THE CITY OF LEFKE-CYPRUS
Keywords:
Administration effects, housing environment, cultural heritage, the city of Lefke, Cyprus.
Abstract
Purpose
The urban settlement, space and architecture, which can transformation with the cultural politics and sanctions of the administration, are the most significant indicators of local culture and its continuity. With this approach, in this article, it is aimed to determine the effects of administrative periods on the built environment and so, to document the immovable cultural heritage.
Design/Methodology/Approach
The residential environment is the cultural values that carry the architectural codes of the local culture from the past to the present. In the formation of these values, cultural ve spatial policies of the administration together with universal developments such as architectural style, construction technologies and so on as well as geographical location, climate and lifestyle are determinant. In this spiral relationship, while the residential environment of the city of Lefke was examined by focusing on the city's own administration periods, cultural heritage values were questioned and documented. The basis of this approach is to define these values, the first stage of the heritage management system envisaged by the World Heritage Committee, with a "values-led approach" and thus obtain the statement of significance, that is, clues for management strategies.
Findings
The traditional and/or historical housing and its pattern have been included in three frameworks, "typological, chronological-regional, and thematic" determined for cultural heritage in 2000s.  In all of these frameworks, the effects of time / space and the administration periods on social and spatial structure are emphasized. In this study, it is documented that the residential environment was shaped according to the administration periods and that its traditional housing and its pattern and some modernist buildings which convey the art deco architectural style are cultural heritage within these frames in the city of Lefke.
Research Limitations
The issues such as the sustainability or management process of cultural heritage values are externalities of this study. 
Social/Practical Implications
This study should be helpful in defining the immovable cultural heritage according to current international policies, approaches and principles.
Originality/Value
The residential environment and traditional housing in the city of Lefke are described for the first time with this study.
References
Adaoğlu, H.S. (2009). Special territories in European Union and North Cyprus: a sui generis relationship under community law, International Relations, 6 (23), 127-148. http://www.uidergisi.com.tr/wp-content/uploads/2013/02/eu-and-north-cyprus.pdf
Assmann, J. & Czaplicka, J. (1995). Collective memory and cultural identity, New German Critiqu, 65 (Spring - Summer, 1995), 125-133. https://eclass.uoa.gr/modules/document/file.php/ARCH469/Assmann.pdf
Assmann, J. (2001). Cultural memory. Ayrıntı Press.
Barthes, R. (1993). Semiotic Adventure (Göstergebilimsel Serüven). Rifat, M.& Rifat, S. (Trans.), Yapı Kredi Publication.
Beratlı, N. (2002). Lefke my Love-memories. Isık Publication.
Beyaz, Ç., Mercan, Ö., Anıl, G. & Okutan, H. (2017). The gradual transformation of CMC houses in Lefke within the context of housing transformation, Journal of History Culture and Art Research, 6 (3), 713-738.
Bhutta, A. T. (2013). The Cyprus issue and Turkey's Quest for EU membership, Journal of European Studies, 29(2), 46-57. https://search.proquest.com/openview/d4e2fff93437562434010270d9c13028/1?pq-origsite=gscholar&cbl=616525
Borowiec, B. (2000). Cyprus: A troubled island. Praeger Publishers.
Cömert, N.Z. & Hoşkara, Ş.Ö. (2013). A Typo-morphological study: the CMC ındustrial mass housing district Lefke, Northern Cyprus, Open House International Journal, 38 (2),16-36.
Çağanağa, V. (2014). The role of copper mine lodging houses on the urban development: the case of Lefke (Doctoral dissertation). European University of Lefke, TRNC.
Gültekin, N. (2010). The character of the entrance space(s) at traditional urban housing in North Cyprus, 6th International Symposium on Architecture and Interior Architecture, 21-24 August 2010, pp. 45-49, Lefke, TRNC.
Hannay, T.D. (2007). Cyprus: The search for a solution. I.B. Tauris Publishers.
ICOMOS (2005a). The World Heritage List: Filling the Gaps – An Action Plan for the Future. http://www.international.icomos.org/world_heritage/gaps.pdf
ICOMOS (2005b). Xi'an Declaration on the Conservation of the Setting of Heritage Structures, Sites and Areas. http://www.international.icomos.org/charters/xian-declaration.pdf
ICOMOS (2004). The World Heritage List: Filling the Gaps - an Action Plan for the Future. https://whc.unesco.org/document/102409
Lavender, D. (1962). The story of Cyprus Mines Corporation. The Huntington Library Press.
Lefebvre, H. (2007). Everyday life in the modern world. Metis Press.
Lefebvre, H. (2012). The production of space. Malden- Blackwell.
Mallinson, W. & Mallinson, B. (2005). Cyprus: A modern history. IB Tauris Publishers.
Mor, A. & Çiftçi, D.M. (2007). Urbanization in Cyprus, Eastern Geographical Review, 12 (18), 225-245.
Nora, P. (2006). Memory spaces (Les lieux de mémoire). Dost Publication.
Öngül, Z. & Saner, T. (2006). The new research on architectural roots of Vouni Palace in Cyprus, itü Journal/a, Architecture, Planning, Design, 5(2), 137-142.
Şevketoğlu, M. (2006). Cypro-Anatolian relations in the 9th millennium BC: Akanthou/Tatlısu rescue excavation, Journal Anatolia, 30 (1), 119-136.
TRNC-SPO (2012). Census of TRNC. Lefkoşa: State Planning Organization Office.
UNESCO, ICCROM, ICOMOS, IUCN (2013). Managing Cultural World Heritage: World Heritage Resource Manual, Paris, France, 12-29. http://whc.unesco.org/en/managing-cultural-world-heritage/
UNESCO (2003). 27th session of the World Heritage Committee https://whc.unesco.org/en/sessions/27COM
WHC (2000). WHC.00/CONF.202/09-Report of the International Expert Meeting on the Revision of the Operational Guidelines. https://whc.unesco.org/en/documents/1582
Yıldız, N. (1995). Ottoman Turkish Cypriot architecture and art. 9th International Turkish Arts Congress, 21-14 June 1995, pp. 385-386, Ankara, Turkey.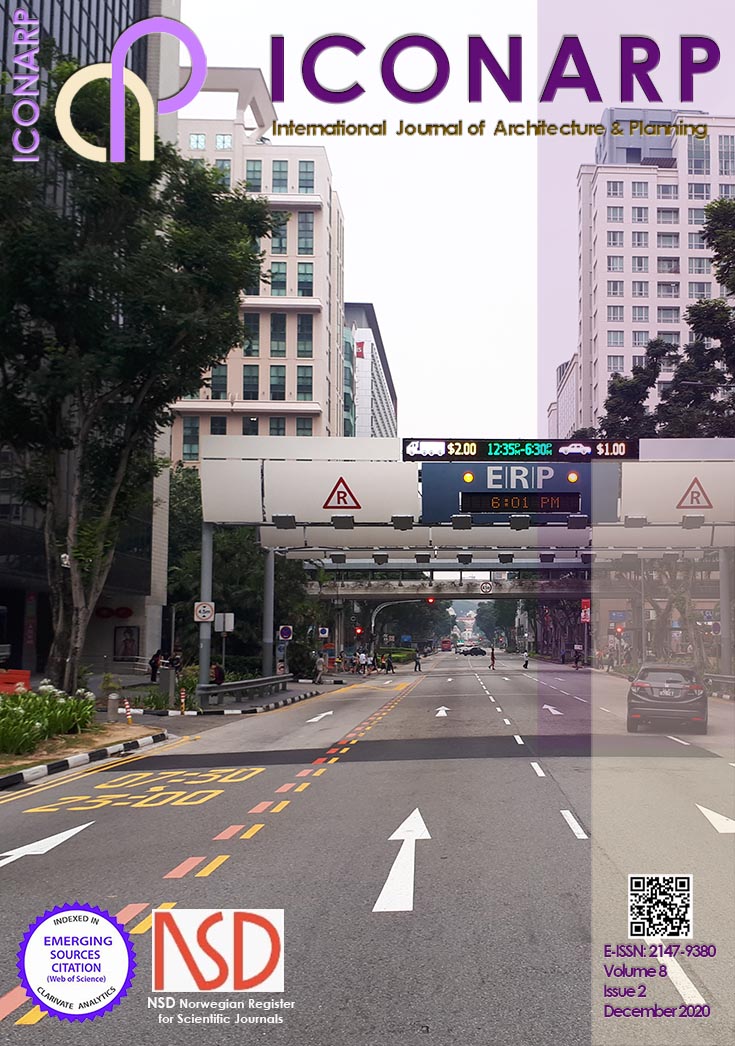 Downloads
How to Cite
Turgut Gültekin, N. (2020). READING ADMINISTRATION PERIODS IN BUILT ENVIRONMENT THROUGH THE CITY OF LEFKE-CYPRUS. ICONARP International Journal of Architecture and Planning ISSN: 2147-9380, 8(2), 461–479. https://doi.org/10.15320/ICONARP.2020.122
License
COPYRIGHT POLICY 
1. The International Journal of Architecture and Planning (ICONARP) open access articles are licensed under a Creative Commons Attribution-NonCommercial-NoDeriatives 4.0 International (CC BY-NC-ND 4.0). This license lets the author to share (copy and redistribute) his/her article in any medium or format.
2. ICONARP cannot revoke these freedoms as long as you follow the license terms. Under the following terms:
The author must give appropriate credit, provide a link to ICONARP, and indicate if changes were made on the article. The author may do so in any reasonable manner, but not in any way that suggests the ICONARP endorses the author or his/her use.
The author may not use the article for commercial purposes.
If the author remix, transform, or build upon the article, s/he may not distribute the modified material.
The author may share print or electronic copies of the Article with colleagues. 
The author may use the Article within his/her employer's institution or company for educational or research purposes, including use in course packs. 
3. The author authorizes the International Journal of Architecture and Planning (ICONARP) to exclusively publish online his/her Article, and to post his/her biography at the end of the article, and to use the articles. 
4. The author agrees to the International Journal of Architecture and Planning (ICONARP) using any images from the Article on the cover of the Journal, and in any marketing material. 
5. As the author, copyright in the Article remains in his/her name. 
6. All papers should be submitted electronically. All submitted manuscripts must be original work that is not under submission at another journal or under consideration for publication in another form, such as a monograph or chapter of a book. Authors of submitted papers are obligated not to submit their paper for publication elsewhere until an editorial decision is rendered on their submission. Further, authors of accepted papers are prohibited from publishing the results in other publications that appear before the paper is published in the Journal.