Prospective Aspect of Topography: The Example of The Grand Bazaar (Kapalı Çarşı) in Istanbul
Keywords:
Dükkân, Grand Bazaar, interior space, social interaction, topography
Abstract
The Grand Bazaar was constructed, there have been significant changes in shopping practices. Particularly the spread of Global trade boosted the opening of new shopping centres, high-street department stores and shopping malls. Despite all these changes in shopping habits, the Grand Bazaar still continues to be an actively used shopping area; it has never lost its customer interest and its socially vivid atmosphere. This research explores the reasons why the Grand Bazaar has not been lost its social dynamism over the course of time? This question has various answers, but this research argues that one of them is particularly related to its peculiar spatial formation that encourages social interactions. In this account; this research methodologically focuses on two main components, these are: how the Grand Bazaar was spatially constructed and how it was experienced by users. These purposes will be accomplished by the analyses of the writings and drawings of the important Western travellers. It is revealed that articulated in topographical account, the Grand Bazaar eliminates the boundaries between the spaces and thus between the people. This continually enhances the mutual relationships between inside and outside. This study focuses on the main interest of the topographic approach which is not much the representative qualities; re-expression of the exterior appearance of the building in shape and profile or any stylistic display, but it is more to create an open venue or a stage which enhances the spatial and social connectivity between interior and exterior worlds, ergo between individual and collective lives. As a result, the study demonstrates how the Grand Bazaar's topographical attitude lends a 'formative' aspect to an architectural context. The Grand Bazaar tries to abolish borders by emphasizing topographical aspects such as permeability, spatiality, and delay in order to create an in-between environment, and also a common social ground.
References
Amicis, ED. (1877). Constantinople. Croydon: CPI Group, 2010, p. 53.
Arendt, H. (2018). The human Condition. Chicago: The University of Chicago Press. (Originally published in 1958)
Arnheim, R. (1977). The Dynamics of Architectural Form. Berkeley and Los Angeles, California: University of California Press.
Botterweck, G. J. (ed), Ringgren, H. (ed) and Fabry, H. (ed). (1995). Theological Dictionary of the Old Testament. ed. Michigan: Willam B. Eerdmans Publishing Company. Volume 7. p. 234.
Cezar, M. (1983). Typical Commercial Buildings of the Ottoman Classical Period and The Ottoman Construction System. İstanbul: Türkiye İş Bankası Cultural Publications.
Corbusier, L. (1991). Precisions on The Present State of Architecture and City Planning.
Corbusier, L. (2007). Journey to the East. London: MIT Press.
Çelebi, E. (2003). Evliya Çelebi Seyahatnamesi 1. Cilt 2. Kitap. (English: The Book of Travels of Evliya Çelebi 1. Volume 2. Book). İstanbul: Yapı Kredi Yayınları.
Davies, N. G. and Faulkner, R. O. (1947). A Syrian Trading Venture to Egypt. Journal of Egyptian Archaeology 33. p. 40-46.
Durakbaşa, A. Cindoğlu, D. (2002) 'Encounters at the Counter: Gender and Shopping Experience' in Fragments of Culture: The Everyday of Modern Turkey ed. by Deniz Kandiyoti, D. & Saktanber, A. London: I.B. Tauris & Co Publishers, pp. 73-87.
Edgü, E., Ünlü, A. M.E. Şalgamcıoğlu, Mansouri, A. (2012). Traditional Shopping a Syntactic Comparison of Commercial Spaces in Iran and Turkey. ed. by M. Greene, J. Reyes, A. Castro. Santiago de Chile: PUC. p.8099:1-8099:24.
Frampton, K. (1995). Studies in Tectonic Culture: The Poetics of Construction in Nineteenth and Twentieth Century Architecture. Cambridge, MA: MIT Press. p. 27.
Gülersoy, Ç. (1980). Story of The Grand Bazaar. İstanbul kitaplığı.
Harries, K. (2000). The Ethical Function of Architecture. Cambridge, Massachusetts: The MIT Press. p. 182-184.
Işın, E. (2008). Everyday Life in İstanbul. İstanbul: Yapı Kredi Publications.
İnalcık, H. (1994). An Economic and Social History of the Ottoman Empire. Cambridge: Cambridge University Press.
Kuban, D. (2016). Osmanlı Mimarisi, [English: Ottoman Architecture]. pp. 396-397.
Leatherbarrow, D. (2002). Uncommon Ground: Architecture, Technology and Topography.
Leatherbarrow, D. (2004). Topographical Stories, Studies in Landscape and Architecture. Philadelphia: University of Pennsylvania Press. p. 1.
Leatherbarrow, D. (2011). Is Landscape Architecture? Architectural Research Quarterly.
Letsch, C. (2015). Merchants of Istanbul's Grand Bazaar Fear for Their Futures as Eviction Loom, The Guardian, 4 May 2015, Istanbul Holidays Section (https://www.theguardian.com/world/2015/may/04/turkish-traders-artisans-fear-future istanbul-grand-bazaar)
Lewis, R. (1971). Everyday Life in Ottoman Turkey. Dorset Press.
O'Neill, M. E. (2001), Corporeal Experience: A Haptic Way of Knowing, Journal of Architectural Education 55(1), p. 3-12.
Pamuk, O. (2006). İstanbul: Memories of a City. London: Faber & Faber. Pardoe, J. S. (1856). Beauties of The Bosphorus. London: Virtue and Co. p. 30.
Pardoe, J. S. (1856). Beauties of The Bosphorus. London: Virtue and Co. p. 30.
Rykwert, J. (1982). The Necessity of Artifice. New York: Rizolli International Publications, Inc.
Say, F. (2017). online video recording, YouTube, 9 December 2017, (https://www.youtube.com/watch?v=gijRiBHkmeE).
Wortley Montagu, M. (2001). The Turkish Embassy Letters. Peterborough, Ontario: Broadview Press, p. 168.
Url-1: https://www.agos.com.tr/tr/yazi/1569/kapalicarsi-projesi-kapali-kalmasin
Url-2: https://www.meisterdrucke.uk/fine-art-prints/Amadeo-Preziosi/825234/A-Turkish-Bazaar,-1867.html)
Url-3: https://i1087.photobucket.com/albums/j467/restorasyon/kapali-carsi-738.jpg
Url-4: https://www.thrillophilia.com/attractions/grand-bazaar
Url-5: https://stamboulbazaar.com/2021/10/03/a-turkish-historical-journey-istanbul-grand-bazaar/FORMAT OF PRESENTATION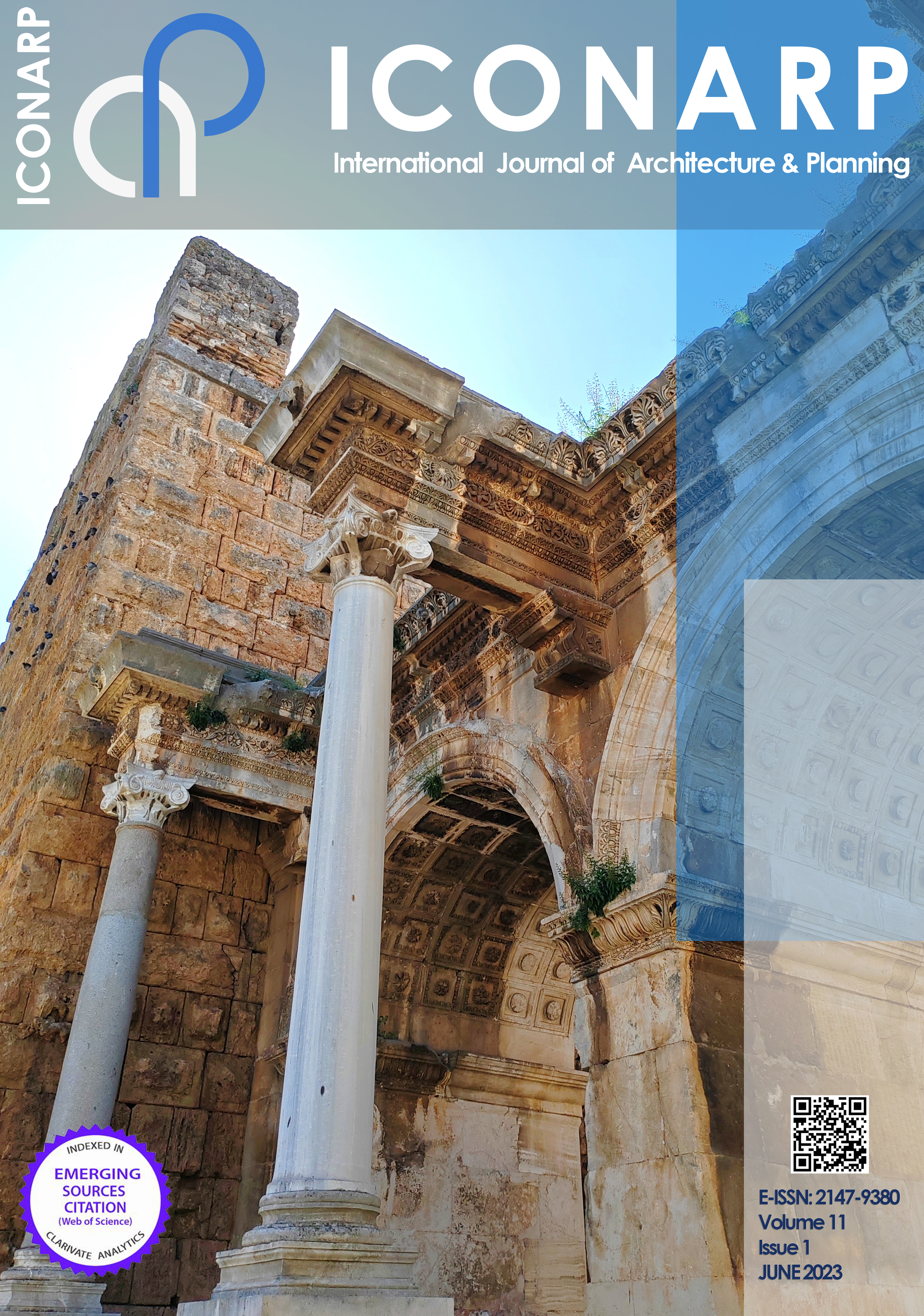 Downloads
How to Cite
Demirel, E., & Moazemi Goudarzi, S. (2023). Prospective Aspect of Topography: The Example of The Grand Bazaar (Kapalı Çarşı) in Istanbul . ICONARP International Journal of Architecture and Planning, 11(1), 229–248. https://doi.org/10.15320/ICONARP.2023.240
License
Copyright (c) 2023 ICONARP International Journal of Architecture and Planning
This work is licensed under a Creative Commons Attribution-NonCommercial-NoDerivatives 4.0 International License.
COPYRIGHT POLICY 
1. The International Journal of Architecture and Planning (ICONARP) open access articles are licensed under a Creative Commons Attribution-NonCommercial-NoDeriatives 4.0 International (CC BY-NC-ND 4.0). This license lets the author to share (copy and redistribute) his/her article in any medium or format.
2. ICONARP cannot revoke these freedoms as long as you follow the license terms. Under the following terms:
The author must give appropriate credit, provide a link to ICONARP, and indicate if changes were made on the article. The author may do so in any reasonable manner, but not in any way that suggests the ICONARP endorses the author or his/her use.
The author may not use the article for commercial purposes.
If the author remix, transform, or build upon the article, s/he may not distribute the modified material.
The author may share print or electronic copies of the Article with colleagues. 
The author may use the Article within his/her employer's institution or company for educational or research purposes, including use in course packs. 
3. The author authorizes the International Journal of Architecture and Planning (ICONARP) to exclusively publish online his/her Article, and to post his/her biography at the end of the article, and to use the articles. 
4. The author agrees to the International Journal of Architecture and Planning (ICONARP) using any images from the Article on the cover of the Journal, and in any marketing material. 
5. As the author, copyright in the Article remains in his/her name. 
6. All papers should be submitted electronically. All submitted manuscripts must be original work that is not under submission at another journal or under consideration for publication in another form, such as a monograph or chapter of a book. Authors of submitted papers are obligated not to submit their paper for publication elsewhere until an editorial decision is rendered on their submission. Further, authors of accepted papers are prohibited from publishing the results in other publications that appear before the paper is published in the Journal.