The Role of Public Interior Spaces in the Socialization of Active Elderly Individuals
Keywords:
Active elderly, public interior, public space, shopping mall, social interaction
Abstract
It is an indisputable fact that interaction and socialization between individuals are important for a healthy society. For this reason, it is essential to develop spaces that provide group and community interaction between all ages and all members of the society. This study is based on the assumption that the interactions of active elderly individuals aged 65 and over with individuals in public interior spaces are important in increasing their quality of life. In order to ensure this interaction, it is thought that the supportive role of public interiors should be investigated. The aim of the study is to evaluate the contribution of shopping center spaces to interaction and socialization from the eyes of active elderly individuals aged 65 and over and to determine the social interaction levels of these individuals in the shopping center. For this purpose, the study was built on social interaction, one of the spatial quality parameters. The research method consists of 2 steps: field observation on the selected shopping center and face-to-face survey. The findings obtained from the study conducted with a group of 200 people were evaluated by making descriptive analysis in the SPSS program. According to the research data, the majority of the participants are of the opinion that the areas and activities that will support social interaction are insufficient in the shopping centers where the study is conducted. In the study, it was determined that the majority of the participants used the shopping place especially for passive socialization and enduring socialization. The use of the space for fleeting sociability, however, took place in the background. It is thought that the reason for this is that the shopping center cannot offer sufficient physical conditions and activity opportunities in terms of space design.
References
Beardsley, M. C. (1970). The aesthetic point of view. Metaphilosophy, 1(1), 39-58.
Bechtel, R. (2000). Assumptions, Methods and Research Problems of Ecological Psychology. S. Wapner, J. Demick, T. Yamomoto, & H. Minami içinde, Theoretical Perpectives in Environment- Behavior Research: Underlying Assumptions, Research Problems and Methodologies (s. 61-66). New York: Kluwer Academic/Plenum Publishers.
Carr, S., Francis, M., Rivlin, L.G., and Stone, A.M. (1992). Public Space, Cambridge: Cambridge University Press.
Erdönmez, M. E., & Akı, A. (2005). Açık kamusal kent mekanlarının toplum ilişkilerindeki etkileri. Megaron, 1(1), 67.
Evans, D. R. (1994). Enhancing quality of life in the population at large. Social indicators research, 33(1), 47-88.
J, Gehl. (1987, 2011) Life Between Buildings: Using Public Space, Arkitektens Forlag, Copenhagen.
Güney, Z. (2007). "Kamusal Alan Nedir? Kamusal Mekan Nedir?" 25 Ekim 2007. (www.arkitera.com/h21487-kamusal-alan-nedirkamusal- mekan-nedir.html)
Gürallar Yeşilkaya, N. 2009. Kamu – Kamusal Alan – Kamu Yapıları – Kamusal Mekân: Modernite Öncesi ve Sonrası İçin Bir Terminoloji Tartışması. Mimarlık Dergisi, (350), 52-55.
Kaplan, M. (1990). Designing Community Participation Special Events that Cross Generational Boundaries. Proceedings of the 21 st Annual Conference of the Environmental Design Research Association, 120-128.
Kaplan, M. (1991). Neighborhoods-2000: An Intergenerational Urban Studies Curriculum (Guidebook for Teacher). New York: Center for Human Environments: CUNY Graduate Center (Sponsored by the Mount Vernon Youth Bureau).
Kaplan, M. (1994, mart). Promoting Community Education and Action through Intergenerational Programming. Children's Environments, 11(1), 48-60.
Kaplan, H., & Öztürk, M. (2004). Engelliler, kamu mekânı ve engelsiz tasarım: Kamusal iç mekânlarda irdelenmesi için bir çerçeve. Planlama Dergisi, 2(4), 67-74.
Layne, M. R. (2009). Supporting intergenerational interaction: Affordance of urban public space. Doctoral dissertation, North Carolina State University, Raleigh, NC.
Lynch, K. (1984). Good city form. MIT press.
Mehta, V. (2013.) The Street. A Quintessential Social Public Space. Florence Production Ltd, Stoodleigh, Devon, UK.
Montross, L. P., Depp, C., Daly, J., Reichstadt, J., Golshan, S., Moore, D., ... & Jeste, D. V. (2006). Correlates of self-rated successful aging among community-dwelling older adults. The American Journal of Geriatric Psychiatry, 14(1), 43-51.
Project for Public Spaces (2000) How to Turn a Place Around: A Handbook of Creating Successful Public Spaces, New York: Project For Public Space.
Sağlam, A. İ., Öztürk, A. Ç., & Kaçar, A. D. (2019). Türkiye'de Kamusal Mekânın Gelişimi. ATA Planlama ve Tasarım Dergisi, 3(1), 47-58.
Steinfeld, E. H. (1972). Physical planning for increased cross-generation contact. University of Michigan.
Tanyeli, U. (2010). Türkiye'nin Görsellik Tarihine Giriş. Metis Yayınevi, İstanbul.
TUIK, 2020. Ankara ili Adrese Dayalı Nüfus Kayıt Sistemi Yaş Grubu Ve Cinsiyet Ayrımında Belediye Mahallelerinin Nüfusları. https://www.tuik.gov.tr/Kurumsal/Bilgi_Edinme
Url -1 Active Ageing A Policy Framework. [http://whqlibdoc.who.int/hq/2002/WHO_NMH_NPH_02.8.pdf] adresinden 18/04/2012 tarihinde erişilmiştir
Url-2 . https://yandex.com.tr/harita/11503/ankara/?l=sat&ll=32.697992%2C39.898040&z=15
Uzgören, G., & Erdönmez, M. E. (2017). Kamusal açık alanlarda mekan kalitesi ve kentsel mekan aktiviteleri ilişkisi üzerine karşılaştırmalı bir inceleme. Megaron Dergisi, 12(1), 41-56.
WHO (2002). Active Ageing: A Policy Framework, World Health Organization, Geneva.
Yıldırım, B. (2015). Kamusal Mekan: Türkiye'de Devlet ve Kamusal Alan Üzerine. Mimarlık, 382, Mart-Nisan, 45-49.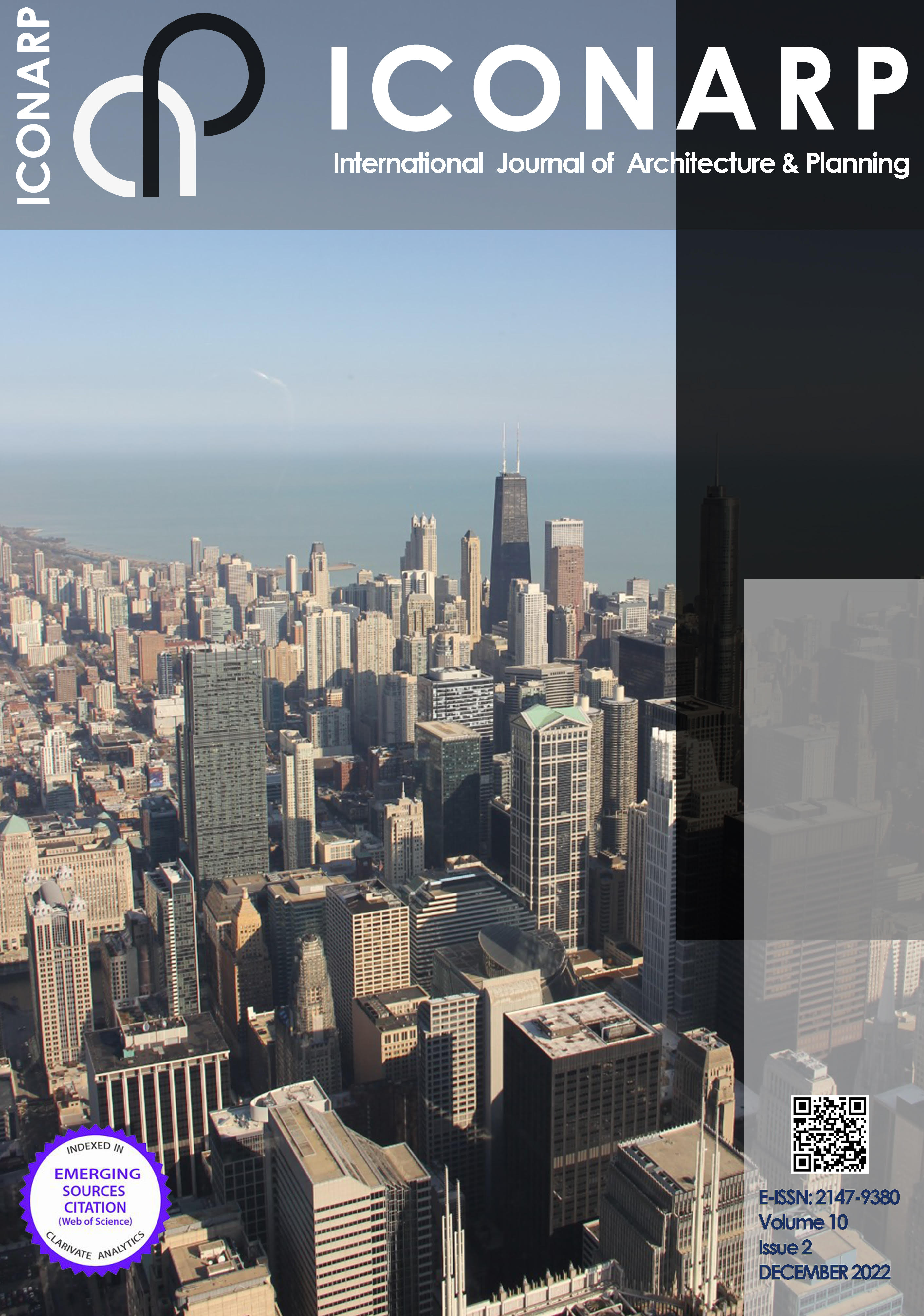 Downloads
How to Cite
Kavaz Altun, İmran, & Sayıl Onaran, B. (2022). The Role of Public Interior Spaces in the Socialization of Active Elderly Individuals. ICONARP International Journal of Architecture and Planning, 10(2), 575–595. https://doi.org/10.15320/ICONARP.2022.216
License
Copyright (c) 2022 ICONARP International Journal of Architecture and Planning
This work is licensed under a Creative Commons Attribution-NonCommercial-NoDerivatives 4.0 International License.
COPYRIGHT POLICY 
1. The International Journal of Architecture and Planning (ICONARP) open access articles are licensed under a Creative Commons Attribution-NonCommercial-NoDeriatives 4.0 International (CC BY-NC-ND 4.0). This license lets the author to share (copy and redistribute) his/her article in any medium or format.
2. ICONARP cannot revoke these freedoms as long as you follow the license terms. Under the following terms:
The author must give appropriate credit, provide a link to ICONARP, and indicate if changes were made on the article. The author may do so in any reasonable manner, but not in any way that suggests the ICONARP endorses the author or his/her use.
The author may not use the article for commercial purposes.
If the author remix, transform, or build upon the article, s/he may not distribute the modified material.
The author may share print or electronic copies of the Article with colleagues. 
The author may use the Article within his/her employer's institution or company for educational or research purposes, including use in course packs. 
3. The author authorizes the International Journal of Architecture and Planning (ICONARP) to exclusively publish online his/her Article, and to post his/her biography at the end of the article, and to use the articles. 
4. The author agrees to the International Journal of Architecture and Planning (ICONARP) using any images from the Article on the cover of the Journal, and in any marketing material. 
5. As the author, copyright in the Article remains in his/her name. 
6. All papers should be submitted electronically. All submitted manuscripts must be original work that is not under submission at another journal or under consideration for publication in another form, such as a monograph or chapter of a book. Authors of submitted papers are obligated not to submit their paper for publication elsewhere until an editorial decision is rendered on their submission. Further, authors of accepted papers are prohibited from publishing the results in other publications that appear before the paper is published in the Journal.