Completely Accessibility Solutions for Historical Building and Areas in the Multi-Layered City Center of Sivas
Keywords:
Accessibility, Universal design, Historical building and areas, Disability rights
Abstract
The study's major objective is to demonstrate that historical structures and locations are completely accessible to all people. While the required architectural modifications are performed in historic buildings and locations, they are intended to provide suitable solutions for everyone, not just a particular impaired group. The goal is to identify architectural alternatives that can be quickly implemented while preserving the original values. Individual and in-depth interviews with people with disabilities were done using questionnaire, interview and observational procedures. Successful examples from across the globe were scanned using scanning and descriptive techniques and project data were then examined and compared. The connected, comfortable, convenient, convivial, and prominent (5C) characteristics from the LPAC London Strategy were taken into account in Sivas city's monitoring and spatial analytic methodologies. Projects for architectural applications were created and technical data and solution suggestions were given using the original methodology while maintaining the integrity of the architectural language. It was shown that enhancing the accessibility of historical structures and locations has an impact on how many handicapped people participate in cultural events. Making historical structures and locations completely accessible would enhance the city's identity. The historical structure and setting are more accessible thanks to thoughtful and appropriate design arrangements. The architectural modifications necessary to enable complete accessibility may also be done to old structures and locations. Without compromising the texture, it is feasible to make historical and protected buildings accessible. The discussion environment, physical interference sensitivities in registered monuments, consideration of the needs of numerous different disability groups in the design of architectural arrangements, difficulties in correctly and effectively communicating with disabled people, and ethical sensitivities all contribute to the study's limitations. The research influenced designers to raise awareness of the need to make our surroundings more accessible. Additionally, field research was done in five particular Sivas buildings with people who are orthopedically, visually, or both. And as a result, the ability to build user-oriented solutions has been established. The unique significance of the research lies in its richness in addressing the concerns of appropriate intervention to registered structures while simultaneously taking into account the balance of preservation and usage in historical buildings and places with the topic of universal design. The research is also a thorough paper on the subject of duties resulting from legal requirements. It may be the first study in the literature to thoroughly examine architectural choices made to promote future research by increasing awareness of the accessibility of historic sites and structures.
References
Akcura, N. (1978). Practical Aspects of Historical Environmental Protection and Necessary Expertise, p.18. METU Faculty of Architecture Restoration Department Panel, 30s.
Arcan, E.F. & Evci, F. (1999). Mimari Tasarıma Yaklaşım: Bina Bilgisi Çalışmaları, İstanbul: Tasarım Yayın Grubu.
Ask, L. N. (2015). Access to Cultural Heritage Sites for All, EXARC Journal Issue 2015/4, Publication Date, 2015-11-30, Norway.
Braganca, L., Fernandes C. & Botelho H. (2006). Accessibility Adaptation of a Building in a Historical City Centre, 8th AMER International Conference on Quality of Life, Malacca, Malaysia, 18-19 Mar 2020, (206-211).
Code on Accessibility in the Built Environment, (2013). Electronical publish by the building and construction authority. pp: 2:240.
Çelimli, M. A. (2022). Tarihi Yapi ve Alanlari Herkes Için Erişilebilir Hale Getirmeye Yönelik Model Önerisi; Sivas Kent Örneği, [Doctoral Thesis, Selçuk University Graduate School of Natural and Applied Sciences]. Konya. pp: (36) 381.
Çepehan, İ. Z. & Güller, E. (2020). Evrensel Tasarım Kapsamında Herkes İçin Erişilebilir Tasarım, Sosyal Politika Çalışmaları Dergisi Erişilebilirlik Özel Sayısı, Cilt-2 Aralık 2020.
Deffner, A., Psatha E. & Bogiantzidis N. (2015). Accessibility to Culture and Heritage: Designing for All, Conference: AESOP 2015, definite space – fuzzy responsibility, Czech Technical University, Faculty of Architecture, Prague.
Diehl, M., (2022). Historic Preservation for All People: Reconceptualizing Accessibility in Historic Buildings.
Dostoğlu, N., Şahin, E. & Taneli, Y. (2009). Evrensel Tasarım: Tanımlar, Hedefler, İlkeler, Mimarlık, sayı: 347, ss. 23-27.
Eric, M. & Gardner J. (2008). Access for all to Heritage Places, Endorsed and published by the Heritage Council of Victoria, Australia, November 2008.
Erişilebilirlik Kılavuzu, (2020). Aile, Çalışma ve Sosyal Hizmetler Bakanlığı, Engelli ve Yaşlı Hizmetleri Genel Müdürlüğü, Ankara, ss: 162.
Evcil, A. N. (2009). Wheelchair Accessibility to Public Building in Istanbul, Disability and Rehabilitation: Assistive Technology, Vol: 4, 2, pp.76-85, Ergonomic Abstracts.
Foster, L. (2004). Progressive Access: Unique Solutions for Historic Buildings, Journal of Architectural Conservation, Volume 10, 2004 - Issue 3, (73-86).
Goldsmith, S. (1997). Desinging For the Disabled. The New Paradigm (1.press), Oxford: Architectural Press, 85-89.
Günay, R. (2007). Kültür Mirasını Korumada Çeşitli Yaklaşımlar, Colloquium Anatolicum VI:1-25.
Iwarsson, S. & Stahl A. (2003). Accessibility, Usability and Universal Design-Positioning and Definition of Concepts Describing Person- Environment Relationships, Disability and Rehabilitation, Vol.25, No.2, pp57-66.
Kitchen, R. & Law, R. (2001). The Socio-spatial Construction of (in) accessible Public Toilets, Urban Studies, Vol.38, No.2, pp.287-298.
Kuban, D. (1998). The Operational Conditions of Claiming History, Architecture, p. 281. Istanbul. 8-9p.
Lee, T. M. (2005). Multicultural citizenship: The case of the disabled.
Lynch, K. (1960). The Image of the City, MIT Press, Cambridge MA.194s.
Lynch, K. (1985). Reconsidering the Image of the City, in: T. Banerjee & M. Southworth (Eds) (1990) City Sense and City Design: Writings and Projects of Kevin Lynch, pp. 247–256 (Cambridge, MA: The MIT Press).
Lynch, S., & Proverbs, D. G. (2019). How adaption of historic listed buildings affords access. International Journal of Building Pathology and Adaptation.
Madran, E. & Özgönül, N. (2005). Kültürel ve Doğal Değerlerin Korunması, TMMOB Mimarlar Odası, Ankara, 189s.
Mamatoğlu, N. (2015). Türkiye'de Engelliler İçin Erişilebilirlik Uygulamaları Algısı, Dosya 36, 2015/3, TMMOB Mimarlar Odası Ankara Şubesi, s. 6-13.
Plimmer, F., Pottinger, G. & Goodall, B. (2006). Accessibility Issues for Heritage Properties: a Frame of Mind? Shaping the Change XXIII FIG Congress, Munich, Germany, October 8-13, 2006, (1-15).
Pretto, A. (2019). Accessibility and Conservation in Contemporary Cities: A(n) (Im)possible Coupling. Architecture_MPS.
Pretto, A. (2022). A study on accessibility in an Old Italian City: when the past is worth more than the present. Disability & Society, 37(3), 496-521.
Pothier, D. & Devlin, R. (2006). Critical Theory: Essays in Philosophy, Politics, Policy and Law (s. 87-106), Vancouver: UBC Press.
Scherrer, V. (2001). Herkes İçin Ulaşılabilirlik Seminer Notları, (Seminar of Design for all Notes) OFD Publications, İstanbul, Cem Ofset, pp.38-42.
Srinurak N., Mishima N., Fuchikami T. & Duangthima W. (2016). Analysis Of Urban Morphology And Accessibility Character To Provide Evacuation Route In Historic Area, Urban Planning and Architecture Design for Sustainable Development, UPADSD 14- 16 October 2015. Article in Procedia - Social and Behavioral Sciences, January 2016.
Tapan, M. (1995). Koruma Bilinci, Cemre Basın Yayın, İstanbul. 76s.
Turkish Statistical Institute (TSI), (2020). Seniors with Statistics, 2020, News bulletin release date: March 18, 2021, issue: 37227.
United Nations Department of Economic and Social Affairs, (2019). World Population Prospects 2019: Highlights, https://www.un.org/development/desa/publications/world-population-prospects-2019-highlights.html.
Ünver, H. (2015). Ulaşılabilirliğin Akreditasyon Sürecinde Değerlendirilmesi ve Taşınmaz Kültür Varlıkları, [Doctoral Thesis, Anadolu University Graduate School of Natural and Applied Sciences]. Eskişehir, pp: (2) 282.
Yaacob, N. M. & Ormerod, M. (2004). Accessibility to Historial Public Buildings: Planning and Building Control in England and Wales, The University of Salford, International Built and Human Environment Research Week, Salford (United Kingdom), (309-319).
Yaldız, E. (2013). Anıtsal Yapıların Kullanım Sürecinde Değerlendirilmesine Yönelik Bir Model Önerisi, [Doctoral Thesis, Selçuk University Graduate School of Natural and Applied Sciences]. Konya. pp: 420.
Zahari N. F., Harun S. F., Ahmad N. A., Zawawi Z. A. & Salim N. A. (2016). Comparative Analysis of Disabled Accessibility Needs of Heritage Building in Perak, MATEC Web of Conferences (2016) 66, Malaysia.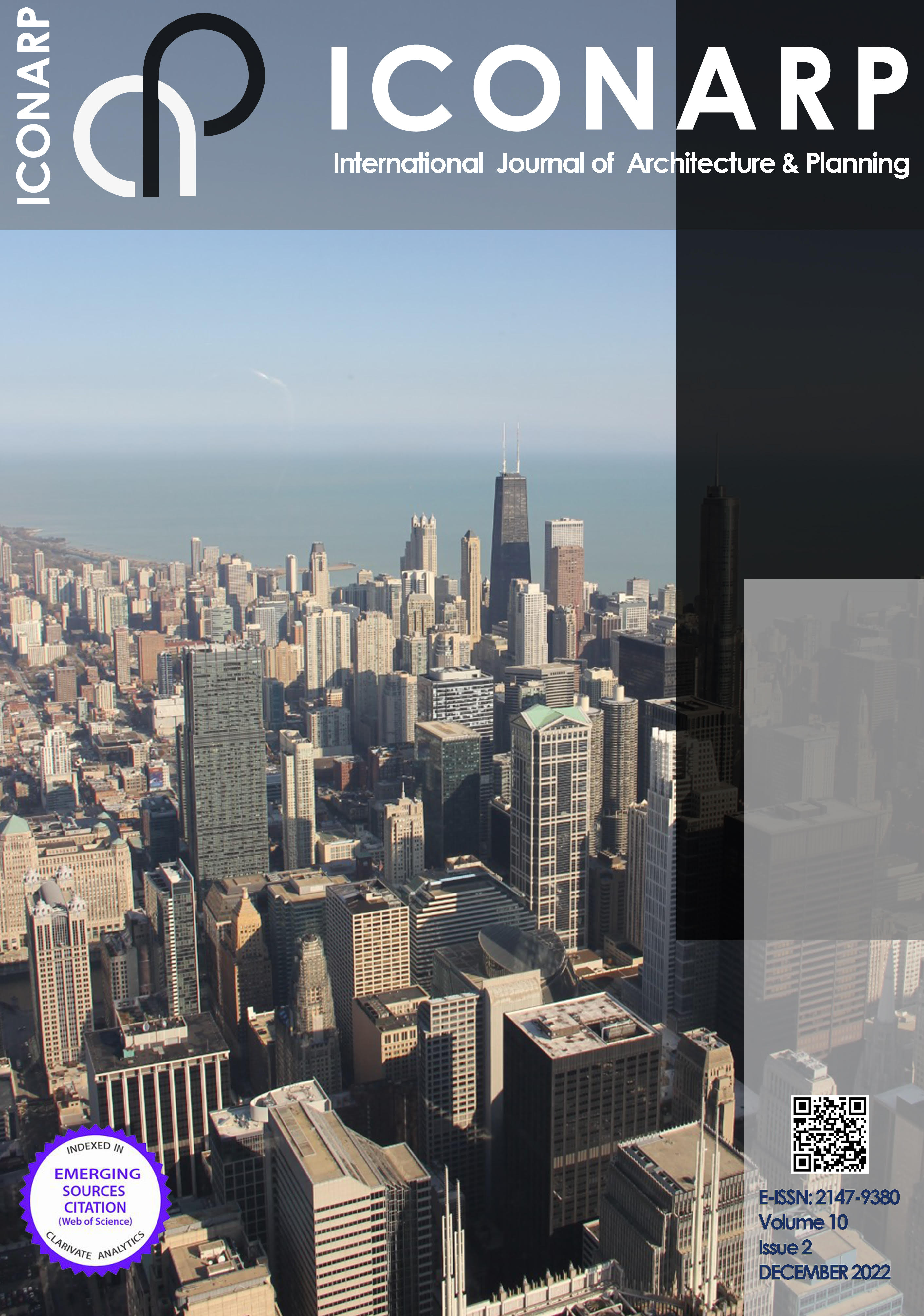 Downloads
How to Cite
Çelimli, M. A., & Oral, M. (2022). Completely Accessibility Solutions for Historical Building and Areas in the Multi-Layered City Center of Sivas. ICONARP International Journal of Architecture and Planning, 10(2), 891–915. https://doi.org/10.15320/ICONARP.2022.228
License
Copyright (c) 2022 ICONARP International Journal of Architecture and Planning
This work is licensed under a Creative Commons Attribution-NonCommercial-NoDerivatives 4.0 International License.
COPYRIGHT POLICY 
1. The International Journal of Architecture and Planning (ICONARP) open access articles are licensed under a Creative Commons Attribution-NonCommercial-NoDeriatives 4.0 International (CC BY-NC-ND 4.0). This license lets the author to share (copy and redistribute) his/her article in any medium or format.
2. ICONARP cannot revoke these freedoms as long as you follow the license terms. Under the following terms:
The author must give appropriate credit, provide a link to ICONARP, and indicate if changes were made on the article. The author may do so in any reasonable manner, but not in any way that suggests the ICONARP endorses the author or his/her use.
The author may not use the article for commercial purposes.
If the author remix, transform, or build upon the article, s/he may not distribute the modified material.
The author may share print or electronic copies of the Article with colleagues. 
The author may use the Article within his/her employer's institution or company for educational or research purposes, including use in course packs. 
3. The author authorizes the International Journal of Architecture and Planning (ICONARP) to exclusively publish online his/her Article, and to post his/her biography at the end of the article, and to use the articles. 
4. The author agrees to the International Journal of Architecture and Planning (ICONARP) using any images from the Article on the cover of the Journal, and in any marketing material. 
5. As the author, copyright in the Article remains in his/her name. 
6. All papers should be submitted electronically. All submitted manuscripts must be original work that is not under submission at another journal or under consideration for publication in another form, such as a monograph or chapter of a book. Authors of submitted papers are obligated not to submit their paper for publication elsewhere until an editorial decision is rendered on their submission. Further, authors of accepted papers are prohibited from publishing the results in other publications that appear before the paper is published in the Journal.