The Accessibility in Shopping Centres: The Cases of Istanbul Profilo and Kozzy Malls
Keywords:
Shopping center, accessibility, interior design, urban design
Abstract
Shopping centres are public areas which were used by people from every social strata and different age groups for consuming commodities or leisure. The aim of this study is to emphasize not only public areas accessibility of shopping centres but also consider interior space characteristics in terms of accessibility.
The study showed that architectural design and interior design solutions were not sufficient to solve accessibility problem without active audit mechanism.  
References
Accessibility for the disabled a design manual for a barier free environment. Retrieved in 20th September 2013 from: http://www.unnati.org/pdfs/manuals/barrier-free-built-environment.pdf
Evcil, A. Nilay and Yalçın Usal, S.S. (2008). "Üsküdar Meydanı ve Engelliler için Erişilebilirlik", Üsküdar Symposium VI, 541–554, Turkey.
Levine, D. (2003). Universal Design New York 2. Idea Publishing, New York.
Madanipour, A. (1996). Design for urban space. NewYork: Wiley.
McClain, L., (2000). Shopping Center Wheelchair Accessibility: Ongoing Advocacy to Implement the Americans with Disabilities Act of 1990, Public Health Nursing 17 (3), 178-186.
Petermans, A. and Cleempoel, V.K., (2010). Designing a Retail Store Environment for the Mature Market: A European Perspective, Journal of Interior Design 35 (2), 21-36.
Polat, E. (1998). Özürlüler için tasarımda erişebilir ve yaşanabilir yaya mekânları: Ankara Kızılay Merkez bölgesinde Sakarya Caddesi yaya mekânı örneklemesi. Gazi University, Master Thesis.
'de Türkiye'deki Toplam AVM Sayısı 347 Olacak. 28.02.2012. yapi.com.tr Retrieved in 8th March 2012 from: http://www.yapi.com.tr/Haberler/2014de-turkiyedeki-toplam-avm-sayisi-347-olacak_90949.html.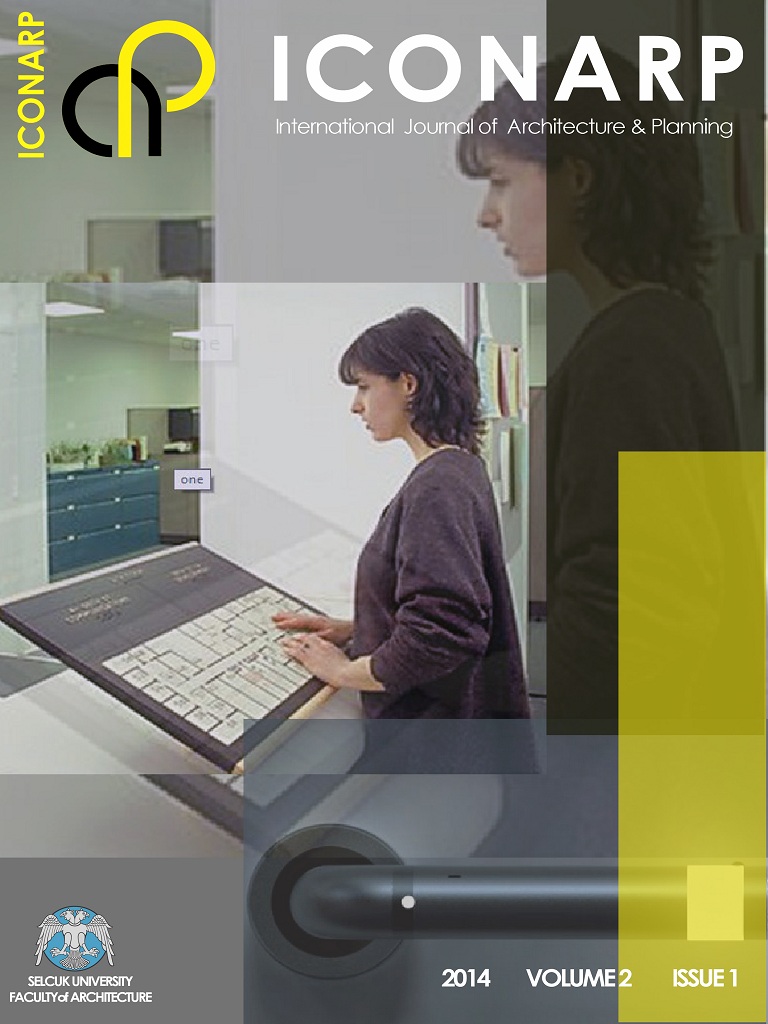 Downloads
How to Cite
Yalçın Usal, S., & Evcil, A. N. (2014). The Accessibility in Shopping Centres: The Cases of Istanbul Profilo and Kozzy Malls. ICONARP International Journal of Architecture and Planning, 2(1), 97–109. Retrieved from https://iconarp.ktun.edu.tr/index.php/iconarp/article/view/41
License
COPYRIGHT POLICY 
1. The International Journal of Architecture and Planning (ICONARP) open access articles are licensed under a Creative Commons Attribution-NonCommercial-NoDeriatives 4.0 International (CC BY-NC-ND 4.0). This license lets the author to share (copy and redistribute) his/her article in any medium or format.
2. ICONARP cannot revoke these freedoms as long as you follow the license terms. Under the following terms:
The author must give appropriate credit, provide a link to ICONARP, and indicate if changes were made on the article. The author may do so in any reasonable manner, but not in any way that suggests the ICONARP endorses the author or his/her use.
The author may not use the article for commercial purposes.
If the author remix, transform, or build upon the article, s/he may not distribute the modified material.
The author may share print or electronic copies of the Article with colleagues. 
The author may use the Article within his/her employer's institution or company for educational or research purposes, including use in course packs. 
3. The author authorizes the International Journal of Architecture and Planning (ICONARP) to exclusively publish online his/her Article, and to post his/her biography at the end of the article, and to use the articles. 
4. The author agrees to the International Journal of Architecture and Planning (ICONARP) using any images from the Article on the cover of the Journal, and in any marketing material. 
5. As the author, copyright in the Article remains in his/her name. 
6. All papers should be submitted electronically. All submitted manuscripts must be original work that is not under submission at another journal or under consideration for publication in another form, such as a monograph or chapter of a book. Authors of submitted papers are obligated not to submit their paper for publication elsewhere until an editorial decision is rendered on their submission. Further, authors of accepted papers are prohibited from publishing the results in other publications that appear before the paper is published in the Journal.