Cities Hosting Holy Shrines: the Impact of Pilgrimage on Urban Form
Keywords:
Pilgrimage, holy city, urban morphology, Mecca, Mashhad
Abstract
This paper explores pilgrimage in the context of historic holy cities which contain at least one religious complex through which the ritual of pilgrimage takes place. One controversial tension in urban development process of holy cities is the tension between urban growth, on the one hand, and adapting city structure to the needs of pilgrims on the other hand. This paper investigates this issue by referring to experiences of two major holy cities in of Mecca and Mashhad. Both cities are spiritual centers which host millions of pilgrims throughout year. The aim of this paper is to analyze the process of city center transformation in both cities and monitor different policies and interventions that shaped their morphologies up to now. Through historical analysis of urban form, flow of pilgrims has affected the morphology of both cities in similar ways. Accordingly policies and interventions by local officials have shaped the urban center in three similar ways: enlargement and expansion of shrine, vehicular access to shrine, and real-estate speculation. İn the absence of protective and preventive codes and policies both Mecca and Mashhad have lost their historical urban fabric and their cultural patrimonies. Their traditional urban scape and prominence of shrine has been substituted by high rise mega projects. İn a similar way their local crafts and small-scale retails have been replaced by global retail chain.
References
Bianca, S. (2000). Urban Form in the Arab World—Past and Present. London: Thames & Hudson.
Hourani, A. H. and Stern S.M. (1970). The Islamic City. Oxford.
Hussein, M. (2013). "From Courtyard to Monument: Effect of Changing Social Values on Spatial Configuration of "the Cities of the Holy Shrines" in Iraq". In Y. O. Kim, H. T. Park, & K. W. Seo (Eds.), Ninth International Space Syntax Symposium. Seoul: Sejong University.
Kheirabadi, M. (1991). Iranian Cities: Formation and Development. Texas: University of Texas Press.
Peters, F.E. (1986). Jerusalem and Mecca: The Typology of the Holy City in the Near East. New York: New York University Press.
Rezvani, A. (2005), In Search of Urban Identity Mashhad, Iran's Building and City Planning Department: Mashhad.
Riggs, R. (??), Shi'i Shrine Cities. Islamic Studies. DOI: 10.1093/OBO/9780195390155-0212
Sabila, R. (2015). "Sites of Worship: From Makkah to Karbala; Reconciling Pilgrimage, Speculation and Infrastructure", in Sabila, R. (ed). Urban Design in the Arab World: Reconceptualizing Boundaries. Pp. 177-197, Routledge.
Toulan, N. A. (1993). "Planning and Development in Mecca", in Amirahmadi, H. & Elshakhs, S. S. Urban development in the Muslim world. New Brunswick, N.J: Center for Urban Policy Research.
Woodward, S. C. (2004). "Faith and tourism: planning tourism in relation to places of worship", Tourism and Hospitality Planning & Development, 1:(2):173-186.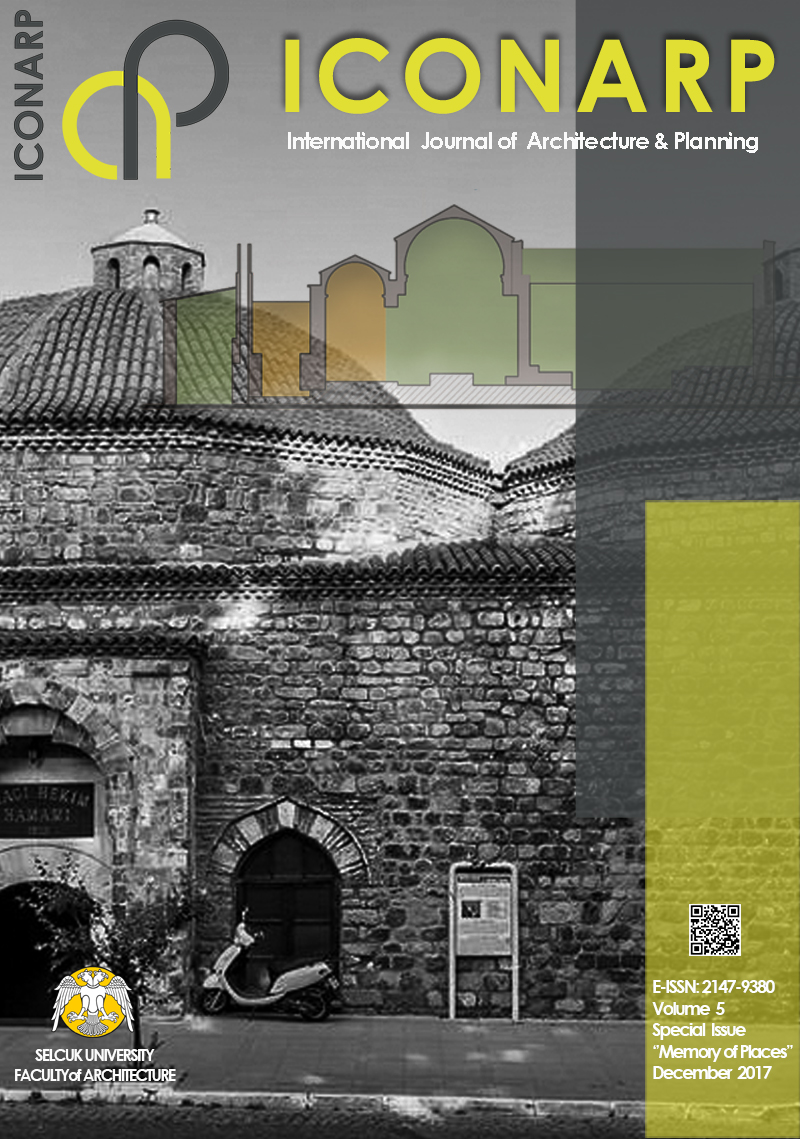 Downloads
How to Cite
Maroufi, H., & Rosina, E. (2017). Cities Hosting Holy Shrines: the Impact of Pilgrimage on Urban Form. ICONARP International Journal of Architecture and Planning, 5, 30–44. https://doi.org/10.15320/ICONARP.2017.24
License
COPYRIGHT POLICY 
1. The International Journal of Architecture and Planning (ICONARP) open access articles are licensed under a Creative Commons Attribution-NonCommercial-NoDeriatives 4.0 International (CC BY-NC-ND 4.0). This license lets the author to share (copy and redistribute) his/her article in any medium or format.
2. ICONARP cannot revoke these freedoms as long as you follow the license terms. Under the following terms:
The author must give appropriate credit, provide a link to ICONARP, and indicate if changes were made on the article. The author may do so in any reasonable manner, but not in any way that suggests the ICONARP endorses the author or his/her use.
The author may not use the article for commercial purposes.
If the author remix, transform, or build upon the article, s/he may not distribute the modified material.
The author may share print or electronic copies of the Article with colleagues. 
The author may use the Article within his/her employer's institution or company for educational or research purposes, including use in course packs. 
3. The author authorizes the International Journal of Architecture and Planning (ICONARP) to exclusively publish online his/her Article, and to post his/her biography at the end of the article, and to use the articles. 
4. The author agrees to the International Journal of Architecture and Planning (ICONARP) using any images from the Article on the cover of the Journal, and in any marketing material. 
5. As the author, copyright in the Article remains in his/her name. 
6. All papers should be submitted electronically. All submitted manuscripts must be original work that is not under submission at another journal or under consideration for publication in another form, such as a monograph or chapter of a book. Authors of submitted papers are obligated not to submit their paper for publication elsewhere until an editorial decision is rendered on their submission. Further, authors of accepted papers are prohibited from publishing the results in other publications that appear before the paper is published in the Journal.