Re-Defining Traditional Bazaar Areas and Shade Structures Via Parametric Design Methods
Keywords:
Bazaar areas, folding architecture, innovative design, computation, environmental parameters
Abstract
For the continuation of life, people created various equipment and goods. To create mutual benefits, they've exchanged the overpruduced items with different products. This has begun the shopping act. By the increased amount of transactions, a need of defined area for shopping have arisen. 
For a temporary time, trading areas have been developed at different locations at a certain period. In the course of time, beside trading, these areas served as socio-cultural spaces where the human relations were established. Moreover, demand of being able to immediately access to needed goods have emerged. This situation made having a permanent trading area essential. Therefore, enclosed and permanent trade areas from bazaar, inn, bedesten, arasta to shopping malls have emerged. Next to all these trading areas, traditional bazaar areas keep being established.
Nowadays, there is a need of providing some determined comfort conditions to the users for these street alley bazaars. Decreasing the effect of unfavorable weather conditions and providing supportive certain services and units (like WCs, security, cleanliness, etc.) are some of them. As a fundamental solution, without disengaging the user relations with the outside, shade structures are generally provided. Shade structures can support cleaning and similar jobs by gathering and using rainwater besides its purpose of protecting the user from bad weather conditions. Application examples of these systems are gradually increasing. However, it is necessary to develop new approaches, in order to stop these proposed shade structures, become prototypes and to adapt the proposal to its environment and to increase diversity.
In this study, a convenient shade structure and its alternatives, which are adapted to environmental conditions, were designed to create a sample model for other bazaar areas. In models, basically, folding design approaches were pursued. For production of these shade structure models, parametric modelling technics (Grasshoppers and Rhinoceros software) were used and different variations of model were generated. Chosen examples of models were evaluated in the aspect of feasibility. A comparison was made between the existing examples and our designed models. Ecological contributions of these models were also taken into consideration and harvestable rainwater amount by this system was calculated. Accordingly, advantages of the system to the bazaar area and to its environment were studied.
References
Dinçer, D. (2010). An Evaluation of the Interaction Between Public Spaces and Shopping as a Function. The İstanbul Technical University pp. 15-23.
Dye, W. (2004). Mass Customization in Architecture: Heterogeneity in the Making. 92nd ACSA ANNUAL MEETING, Miami FL, pp 215-229.
Elghazi, Y., Wagdy A., Mohamed, S. and Hassan, A. (2014). T. and Okabe, A. (2013). "Daylighting Driven Design: Optimizing Kaleidocycle Façade for Hot Arid Climate." Fifth German-Austrian IBPSA Conference, RWTH Aachen University, Germany. pp. 314-321.
Kartal. S. (2013). A Research On The Development Of Shopping (Mall) Buildings In The Historical Process; The Sample Of Çankırı. M. Sc. Thesis. Karabük University Graduate School Of Natural and Applied Sciences. Karabük. Pp. 13-14.
Koçhan, U. (2015). Market and marketing culture in İstanbul. İstanbul Bilgi University pp. 1-2.
Moussavi, F. (2011). Biçimin İşlevi, YEM yayınları, İstanbul.
Reference from Internet: http://talfriedman.com/origami-pavilion (date of connection: 2017)
Sorguç, A.G., Hagiwara, I. and Selcuk, S., (2009). "Origamics in Architecture: a medium of inquiry for design in architecture." pp. 235-247. Metu Jfa, 26/2,
Takenaka, T. and Okabe, A. (2013). "A Computational Method for Integrating Parametric Origami Design and Acoustic Engineering. In: Stouffs, Rudi and Sariyildiz, Sevil (eds.), Computation and Performance" – Proceedings of the 31st eCAADe Conference, Volume 2. Delft University of Technology, Delft, The Netherlands. pp 289-295.
Tavil, A. (2004). Cephe Sistemlerinde Yeni Teknolojiler - Elektrokromik Pencereler. 2. Ulusal Yapı Malzemesi Kongresi ve Sergisi, İstanbul, pp 111-116.
Ülker, N.E. (1999). Changing Meaning Of Shopping Places, Choice of Site; İzmir Example. M. Sc. Thesis. Dokuz Eylül University Graduate School Of Natural and Applied Sciences. İzmir. Pp. 3-15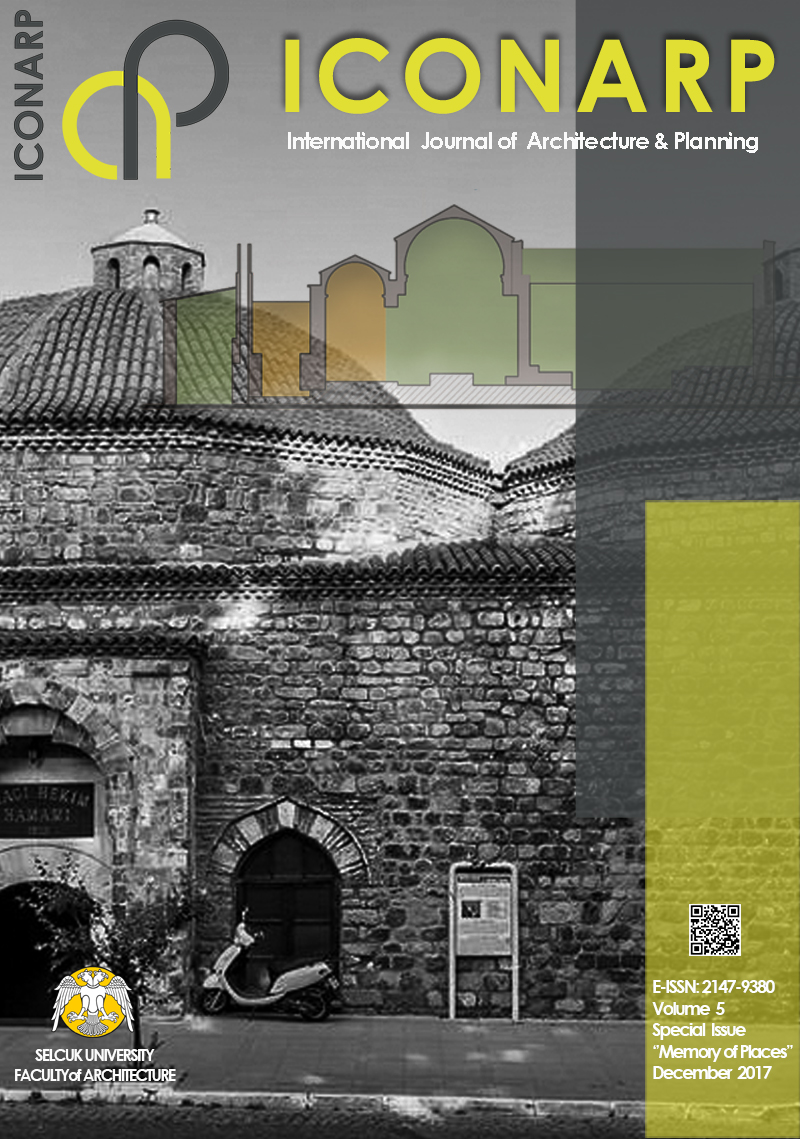 Downloads
How to Cite
Dinçer, A. E., Bektaş, İbrahim, İyican, A. B., & Engin, A. S. (2017). Re-Defining Traditional Bazaar Areas and Shade Structures Via Parametric Design Methods. ICONARP International Journal of Architecture and Planning, 5, 103–116. https://doi.org/10.15320/ICONARP.2017.29
License
COPYRIGHT POLICY 
1. The International Journal of Architecture and Planning (ICONARP) open access articles are licensed under a Creative Commons Attribution-NonCommercial-NoDeriatives 4.0 International (CC BY-NC-ND 4.0). This license lets the author to share (copy and redistribute) his/her article in any medium or format.
2. ICONARP cannot revoke these freedoms as long as you follow the license terms. Under the following terms:
The author must give appropriate credit, provide a link to ICONARP, and indicate if changes were made on the article. The author may do so in any reasonable manner, but not in any way that suggests the ICONARP endorses the author or his/her use.
The author may not use the article for commercial purposes.
If the author remix, transform, or build upon the article, s/he may not distribute the modified material.
The author may share print or electronic copies of the Article with colleagues. 
The author may use the Article within his/her employer's institution or company for educational or research purposes, including use in course packs. 
3. The author authorizes the International Journal of Architecture and Planning (ICONARP) to exclusively publish online his/her Article, and to post his/her biography at the end of the article, and to use the articles. 
4. The author agrees to the International Journal of Architecture and Planning (ICONARP) using any images from the Article on the cover of the Journal, and in any marketing material. 
5. As the author, copyright in the Article remains in his/her name. 
6. All papers should be submitted electronically. All submitted manuscripts must be original work that is not under submission at another journal or under consideration for publication in another form, such as a monograph or chapter of a book. Authors of submitted papers are obligated not to submit their paper for publication elsewhere until an editorial decision is rendered on their submission. Further, authors of accepted papers are prohibited from publishing the results in other publications that appear before the paper is published in the Journal.