Regeneration Through Hidden Historical Landscape of Lecco. Urban Course Design Process
Keywords:
Heritage, urban landscape, regeneration
Abstract
The article focus on the role of Historical Urban Heritage in Urban Design through the presentation of the integrated learning  path developed for Urban Design and Urban Design Studio classes of Lecco Campus of Politecnico of Milan (school of Architecture Urban Planning Construction Engineering, master degree in Building and Architectural Engineering - BAE and Architectural-Engineering– EDA).

The first part of paper presents the general learning process characterizing Urban Design course and the methodological process for the Urban Master Plan development in the studio modules. The second part presents the LeccoLAB didactical path developed in the Lecco Campus focusing on the urban design issues and presenting selected results and design proposals developed by students focusing on the Lecco Historical Urban Heritage issues. During the Academic Year 2016/2017 students' work teams (27) applied the concepts, methods and techniques presented in Urban Design course to the Lecco waterfront urban systems developing proposal for Urban Master Plan aiming the regeneration of urban complex systems through principles of Nature Based Solutions and  Urban Resilience.
References
Bandarin, F., & Van Oers, R. (2012). The historic urban landscape: managing heritage in an urban century. John Wiley & Sons.
Bandarin, F., & Van Oers, R. (Eds.). (2014). Reconnecting the city: the historic urban landscape approach and the future of urban heritage. John Wiley & Sons.
Colucci, A. (2015). Urban Strategic visions for the regeneration of small town centres. In Malighetti L.E. and Colucci A. (Eds) Santarcangelo di Romagna: Maggioli.
Europe, C. O. (2000). European landscape convention. In Report and Convention.
UNESCO. Recommendation on the Historic Urban Landscape; UNESCO World Heritage Centre: Paris, France, 2011.
Carmona M., Heath T., Oc T., Tiesdell T., (2012). Public Places - Urban Spaces is a holistic guide to the many complex and interacting dimensions of urban design. Taylor & Francis
Madanipour, A. (2006). Roles and Challenges of Urban Design. Journal of Urban Design, Vol. 11, No. 2: 173-193.
Palazzo, D. Steiner, F. (2011). Urban Ecological Design. A process for regenerative places. Washington DC, Island Press.
Palazzo, D. (2008). Urban Design. Milano:MondadoriUniversità.
Palazzo, D. (2011). Pedagogical Traditions in Banerjee T. and Loukaitou-Sideris A. (Ed.) Companion to Urban Design. New York: Routledge
Radović, D. (2004). Towards Culturally Responsive and Responsible Teaching of Urban Design. Urban Design International, Vol. 9, No. 4: 175-186.
Savage, S. (2005). Urban design education: Learning for life in practice. Urban Design International, 10(1), 3-10.
International 10: 3-10.
Urban Task Force, (1999). Towards Urban Renaissance. London: Dep. of Environment, Transport and Regions.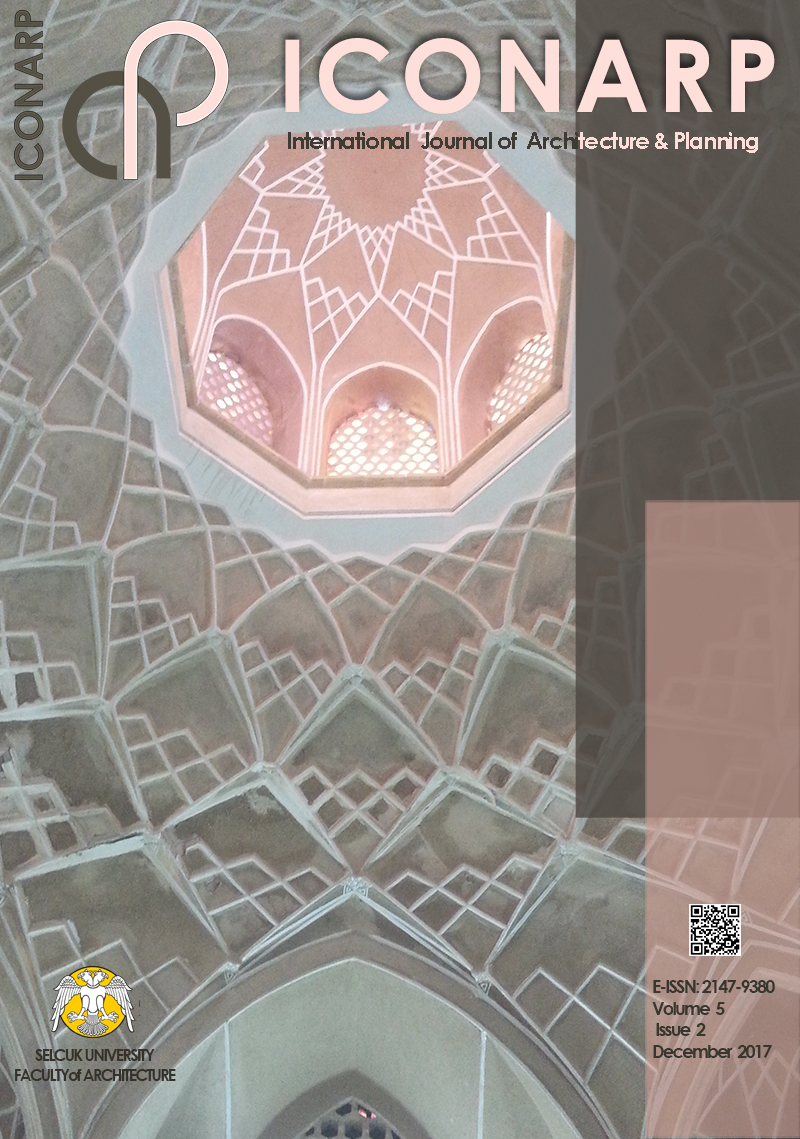 Downloads
How to Cite
Colucci, A., Kolmogorova, A., Kraja, B., & Ziyaee, M. (2017). Regeneration Through Hidden Historical Landscape of Lecco. Urban Course Design Process. ICONARP International Journal of Architecture and Planning, 5(2), 191–215. https://doi.org/10.15320/ICONARP.2017.33
License
COPYRIGHT POLICY 
1. The International Journal of Architecture and Planning (ICONARP) open access articles are licensed under a Creative Commons Attribution-NonCommercial-NoDeriatives 4.0 International (CC BY-NC-ND 4.0). This license lets the author to share (copy and redistribute) his/her article in any medium or format.
2. ICONARP cannot revoke these freedoms as long as you follow the license terms. Under the following terms:
The author must give appropriate credit, provide a link to ICONARP, and indicate if changes were made on the article. The author may do so in any reasonable manner, but not in any way that suggests the ICONARP endorses the author or his/her use.
The author may not use the article for commercial purposes.
If the author remix, transform, or build upon the article, s/he may not distribute the modified material.
The author may share print or electronic copies of the Article with colleagues. 
The author may use the Article within his/her employer's institution or company for educational or research purposes, including use in course packs. 
3. The author authorizes the International Journal of Architecture and Planning (ICONARP) to exclusively publish online his/her Article, and to post his/her biography at the end of the article, and to use the articles. 
4. The author agrees to the International Journal of Architecture and Planning (ICONARP) using any images from the Article on the cover of the Journal, and in any marketing material. 
5. As the author, copyright in the Article remains in his/her name. 
6. All papers should be submitted electronically. All submitted manuscripts must be original work that is not under submission at another journal or under consideration for publication in another form, such as a monograph or chapter of a book. Authors of submitted papers are obligated not to submit their paper for publication elsewhere until an editorial decision is rendered on their submission. Further, authors of accepted papers are prohibited from publishing the results in other publications that appear before the paper is published in the Journal.