Revitalization of Cultural and Aesthetical Assets of Iranian Traditional Bazaar
Keywords:
Cultural identity, cultural landscape, Iranian traditional bazaar, transformation of city center.
Abstract
In recent decades, modernization is extensively changing the face of Iranian cities. Besides, urban places are losing their traditional features, identity and cultural characteristics. Conservation of cultural heritage resources rescued historical parts of the cities; hence, other traditional urban spaces do not receive enough attention and protection due to economic concerns. Mashhad, as one of the main religious touristic destinations in Iran, is unfortunately losing its traditional features due to extensive attractions of physical transformations. Economic profits fascinating constructions into the city center of Mashhad, specially surrounding areas of the holly shrine. This issue has been led to demolishment of the old texture of the city center. Sarshoor bazaar is one of rescued traditional urban public spaces in city center of Mashhad with characteristics of an Iranian ancient bazaar.  This study mainly focuses on cultural and aesthetical patterns of traditional Iranian bazaars in order to provide a conceptual strategy for revitalization of Sarshoor bazaar. To this aim, a theoretical review is provided through main representative factors of cultural landscape to decide about a proper strategy for improving cultural quality of the selected case study. We also provide a practical analysis through social and behavioral patterns of the citizens and pilgrims in public spaces to realize material and immaterial features of Sarshoor bazaar, and consequently, find out any possible opportunity of improving tangible and intangible characteristics of this case study area.
To capture cultural landscape qualities of Sarshoor bazaar, a final design is provided to envelope a light traditional surface representing the visual landscape of the bazaar. Main passage and piazzas are also equipped for the movements of pilgrims and setting up annual traditional and social events.
References
Carmona, M. Tiesdell, S and Heath, S. Oc. T. ( 2010). Public Place Urban Space, The Dimension of Urban Design. Published by Routledge.
Calcating, A. (2012). The Need for a Cultural Landscape Theory: An architect's approach .Urban and Spatial Planning / Stadt- und Raumplanung. LIT Verlag.
Ertan, T. and Egercioglu, Y. (2016). "Historic City Center Regeneration: Case of Malaga and Kemeralti, Izmir". Juornal of Procedia–social and behavioral science. 233: 601-607.
Farnahad Consulting Engineers. (2011). "Development and construction project of Mashhad metropolis". Report: Development and Construction Vision, Objectives, Strategies, and Policies, 3rd. Mashhad.
Habibi, m. (2001). From Shar to the city: Historical Analysis Beyond Urban Design and Its Physical Appearance. University of Tehran Press.
Haji Qassemi, K. (2005). Ganjnameh; cyclopaedia of Iranian Islamic Architecture, Bazaar Buildings. Vol.9. Rowzaneh Press.
Kaymaz, I. (2013). Urban Landscape and Identity. Ed. Ozyavuz, M. Advances in Landscape Architecture. InTech, Chapters published.
Mashhad Municipality. (2012). "The statistics of Mashhad demography, tourism and pilgrimage, 1st ed". Mashhad Municipality, Mashhad.
Mehdipour, A. Rashidi Nia, H. (2013)." Persian Bazaar and Its Imapct on Evolution of Historic Urban Cores- the Case of Isfahan". The Macrotheme Review. N.2 vol. 5.
O'hare, DJ. (1997)," Tourism and Small Coastal Settlements: A Cultural Landscape Approach for Urban Design". A thesis submitted in partial fulfilment of the requirements of Oxford Brookes University for the degree of Doctor of Philosophy.
Pourjafar, M. Amini, M and Varzane, E and Mahdavinejad, M. (2014). "Role of Bazaars as a Unifying Factor in Traditional Cities of Iran: The Isfahan Bazaar". Frontiers of Architectural Research,No.3.
Relph, E. (1976). Place and placelessness. Pion Limited. London
Rezvani, A. (2005). Finding Urban Identity in Mashhad. Ministry of Housing and Urban Development of Khorasan, Iran.
Soltanzade, H. (2004). Iranian Bazaars. Publication of Cultural Research Burea.
Tafahomi, R. (2007). Effect of Urban Design Aspects in the Urban Spaces Creation, Universiti Teknologi Malaysia Institutional Repository.
Tash. (2006). "The analaysis studies and the prepration of new comprehensive master plan for the ring and urban space of city center, Mashhad", Consulting Engineers company of TASH. N.2-105-11-99.
Zarabadi, S. and Ziyaee. M. (2008). "Sarshoor Area, New Function in Distressed Skeleton", First conference of Regeneration & Revitalization of Urban Distressed Area, Mashhad, Iran, 10-11 December 2008
Ziyaee, M. (2009). "Urban design in Sarshoor district of Mashhad city with the use of social & economical models". Master thesis. Azad University of Iran- Science & Research branch-Tehran.
Ziyaee, M. (2017). "Assessment of urban identity through a matrix of cultural landscapes". Journal of Cities, under publication.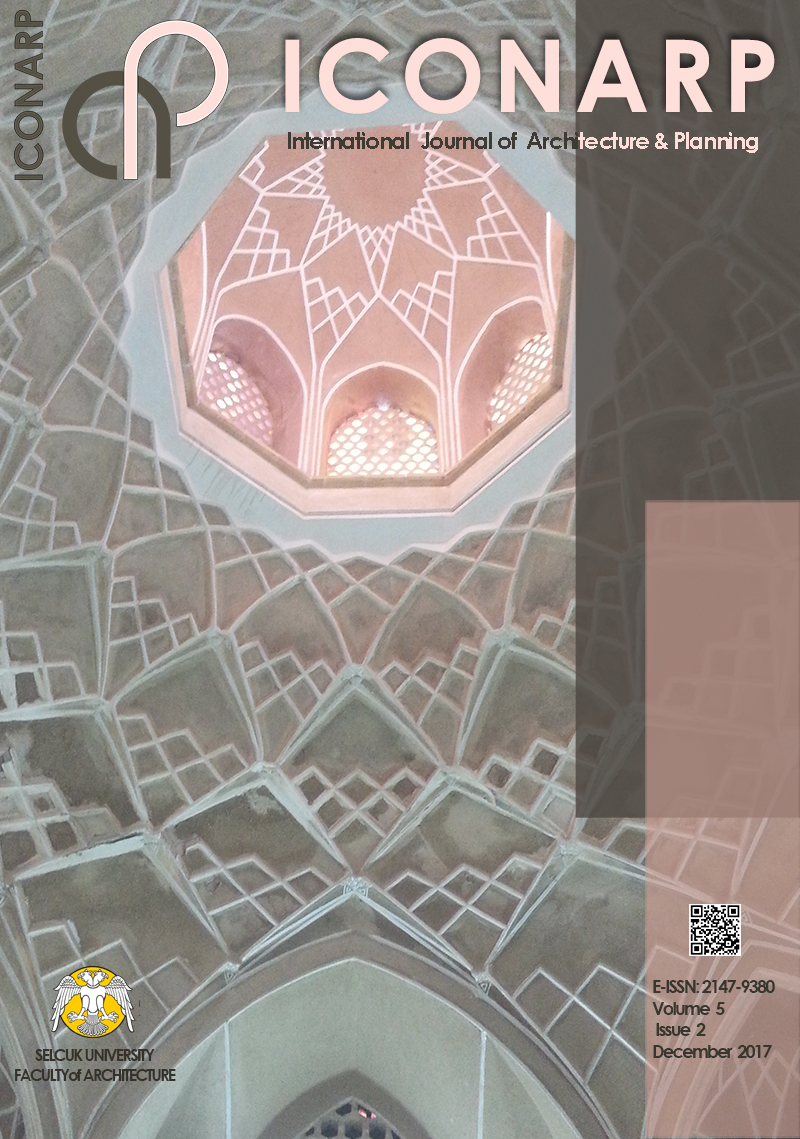 Downloads
How to Cite
Ziyaee, M. (2017). Revitalization of Cultural and Aesthetical Assets of Iranian Traditional Bazaar. ICONARP International Journal of Architecture and Planning, 5(2), 234–251. https://doi.org/10.15320/ICONARP.2017.34
License
COPYRIGHT POLICY 
1. The International Journal of Architecture and Planning (ICONARP) open access articles are licensed under a Creative Commons Attribution-NonCommercial-NoDeriatives 4.0 International (CC BY-NC-ND 4.0). This license lets the author to share (copy and redistribute) his/her article in any medium or format.
2. ICONARP cannot revoke these freedoms as long as you follow the license terms. Under the following terms:
The author must give appropriate credit, provide a link to ICONARP, and indicate if changes were made on the article. The author may do so in any reasonable manner, but not in any way that suggests the ICONARP endorses the author or his/her use.
The author may not use the article for commercial purposes.
If the author remix, transform, or build upon the article, s/he may not distribute the modified material.
The author may share print or electronic copies of the Article with colleagues. 
The author may use the Article within his/her employer's institution or company for educational or research purposes, including use in course packs. 
3. The author authorizes the International Journal of Architecture and Planning (ICONARP) to exclusively publish online his/her Article, and to post his/her biography at the end of the article, and to use the articles. 
4. The author agrees to the International Journal of Architecture and Planning (ICONARP) using any images from the Article on the cover of the Journal, and in any marketing material. 
5. As the author, copyright in the Article remains in his/her name. 
6. All papers should be submitted electronically. All submitted manuscripts must be original work that is not under submission at another journal or under consideration for publication in another form, such as a monograph or chapter of a book. Authors of submitted papers are obligated not to submit their paper for publication elsewhere until an editorial decision is rendered on their submission. Further, authors of accepted papers are prohibited from publishing the results in other publications that appear before the paper is published in the Journal.