A Picturesque View to Able-Bodied Persons in the City and the Stigma of Disability
Keywords:
Accessibility, disability, cities of Turkey, universal design, barrier-free.
Abstract
Today, in Turkey, the percent of the disabled is %12. Thus, there are 10 million disabled people and when you take the disabled into account with their families half of the Turkish society is affected directly from disability. In addition to that, if we take elders, pregnant, children, obsesses and very tall or short persons who suffer from a kind of temporary or permanent disability into account, we face an incredible situation. These people in city who are limited in terms of motion feel the necessity of design approaches which minimize physical and spatial hindrances in order to travel and wander around in a safe way in places. In addition to the accessibility of the physical environment by the disabled, environmental factors being the cause of disability is quite significant in terms of urban spaces. In this paper, what cities of Turkey, urban planning and design offer to the disabled and what they do not is being investigated, in particular and in general, what is attainable by the help of a universal and inclusive design and universal and inclusive planning to reach a universal, accessible, livable, usable, fair and inclusive city.
References
Bilir, Ş. (1986) Disabled Children and Their Education. Hacettepe, Ankara.
City of Winnipeg (2001) Universal Design Policy. <<http://www.aacwinnipeg.mb.ca/aac_pdfs/Universal%20Design%20Policy.pdf>>
Gleeson, B. (1999) Geographies of Disability, Routledge, London and NY.
Mace, R. (1997) "What is the Universal Design? The Principles, NC State University, Raleigh.
Null, R. (2014) Universal Design Principles and Models, CRC Press, NY.
Polat, E. (2002) To Be Disabled Cities / Citizens. TOL-Journal of Architectural Culture 1, 73-75.
Porter, A. (2002) Compromise and Constraint: Examining the Nature of Transport Disability in the Context of Local Travel. World Transport Policy and Practice 8(2), 9-16.
Preiser, W. F. E., Smith, K. H. (2011) Universal Design Handbook, Mc Graw Hill, NY.
The Center for Universal Design (2006) Universal Design Principles. NC State University, Raleigh.
Turkish Language Institution (TDK) (1983) Turkish Dictionary. TDK, Ankara.
Turkish Standards Institution (TSE) (1991) TS9111-The Rules of the Arrangement of Buildings where the Disabled will Reside. TSE, Ankara.
United Nations (UN) (1994) Fundamental Concepts in Disability Policy, The Standard Rules on the Equalization of Opportunities for Persons with Disabilities. UN, New York.
World Health Organization (WHO) (1980) International Classifications of Impairments, Disabilities and Handicaps: A Manual of Classification Relating to the Consequence of Disease. WHO, Geneva.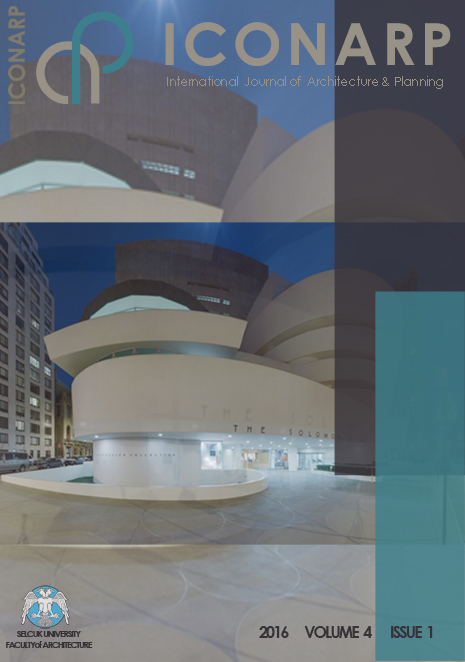 Downloads
How to Cite
Polat, E. (2016). A Picturesque View to Able-Bodied Persons in the City and the Stigma of Disability. ICONARP International Journal of Architecture and Planning, 4(1), 1–13. https://doi.org/10.15320/ICONARP.2016120231
License
COPYRIGHT POLICY 
1. The International Journal of Architecture and Planning (ICONARP) open access articles are licensed under a Creative Commons Attribution-NonCommercial-NoDeriatives 4.0 International (CC BY-NC-ND 4.0). This license lets the author to share (copy and redistribute) his/her article in any medium or format.
2. ICONARP cannot revoke these freedoms as long as you follow the license terms. Under the following terms:
The author must give appropriate credit, provide a link to ICONARP, and indicate if changes were made on the article. The author may do so in any reasonable manner, but not in any way that suggests the ICONARP endorses the author or his/her use.
The author may not use the article for commercial purposes.
If the author remix, transform, or build upon the article, s/he may not distribute the modified material.
The author may share print or electronic copies of the Article with colleagues. 
The author may use the Article within his/her employer's institution or company for educational or research purposes, including use in course packs. 
3. The author authorizes the International Journal of Architecture and Planning (ICONARP) to exclusively publish online his/her Article, and to post his/her biography at the end of the article, and to use the articles. 
4. The author agrees to the International Journal of Architecture and Planning (ICONARP) using any images from the Article on the cover of the Journal, and in any marketing material. 
5. As the author, copyright in the Article remains in his/her name. 
6. All papers should be submitted electronically. All submitted manuscripts must be original work that is not under submission at another journal or under consideration for publication in another form, such as a monograph or chapter of a book. Authors of submitted papers are obligated not to submit their paper for publication elsewhere until an editorial decision is rendered on their submission. Further, authors of accepted papers are prohibited from publishing the results in other publications that appear before the paper is published in the Journal.